Hey Y'all!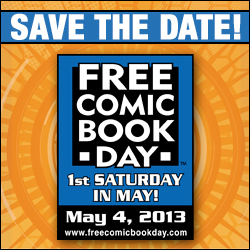 Super quick tonight as it is 2am and I have to finish inking 2 pony covers tonight.
Free Comic Book Day this year'll see me signing and sketching at Emerald Knights in Burbank.
4116 W. Burbank Blvd Burbank, CA 91505
Here's more info.
Half the profits (I think half, I don't remember... maybe all) from my sketches will benefit the Shriners Children's Hospital of Los Angeles.
Also! They'll be auctioning off one of my pages from My Little Pony Micro Series #2 featuring Rainbow Dash for the Shriners. So if you're a fan of pony art, swing on by. And if you're not local--
you can play along online
.
Also also! I might have some other pony stuff to raffle off at FCBD courtesy of
SHOUT FACTORY
. More on that as it develops.
Update: I'll be giving away copies of the newest pony adventure -



MY LITTLE PONY: FRIENDSHIP IS MAGIC - PRINCESS TWILIGHT SPARKLE now available on DVD from Shout! Factory
Ok. That's all I've got time for. Come on down this Saturday if you're in the area. Next weekend I'm at
Long Beach Comic Expo
AND
Equestria L.A.
I'll have the info on that as soon as I hit my deadlines.