Hey Y'all!
Here's the first batch of those artist proof cards from the Marvel 70th set. For those not in the loop, here's what an Artist Proof card is: So, 1 out of every 10 packs of these trading cards has an original piece of art in it. These cards are officially called
SketchaFEX
cards but most folks just call them Sketch Cards. There are about a hundred artists who do the sketch cards, the (very) rough math is- you've got about a 1 in 10,ooo shot at buying a pack. getting one of my original sketch cards. I posted up a bunch of my cards when the set came out earlier this year you can see them
right here
.
So those are the regular sketch cards. The
Artist Proof cards
are a little different. For however many sketches an artist does, as part of the deal with the people who put out the cards, we get back a certain number of blank Artist proof cards back that we can sell or draw on and keep or do whatever we want with... On the Marvel 70th set, I did 150 sketch cards and I got sent back 6 artist proof cards. So again with the math, Regular card= 1 in 10,000... Artist proof (and I'm not great at math) I believe 1 in 17 billion. ;)
Anyway, the main difference with the AP cards is that instead of luck of the draw, it's basically a commission. You can get whoever doing whatever you want on the card (as long as it's decent, all the AP cards still have to be approved by the card guys and Marvel.)
Out of the 6 cards I had for the marvel 70th set, 4 have been sold, 2 are left.
The 2nd to last card is on ebay right now,(click here!)
And the last one will go up after that. You can always find my AP cards on ebay by just searching "Fleecs" or
click here and I'll search "Fleecs" for you.
Anyway, these first 4 all got approved today so here's what they look like--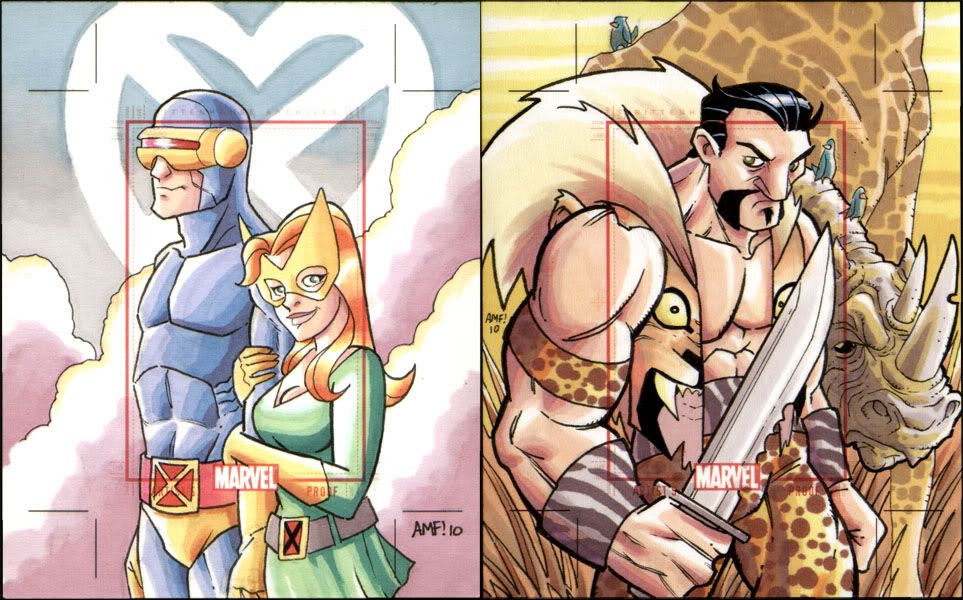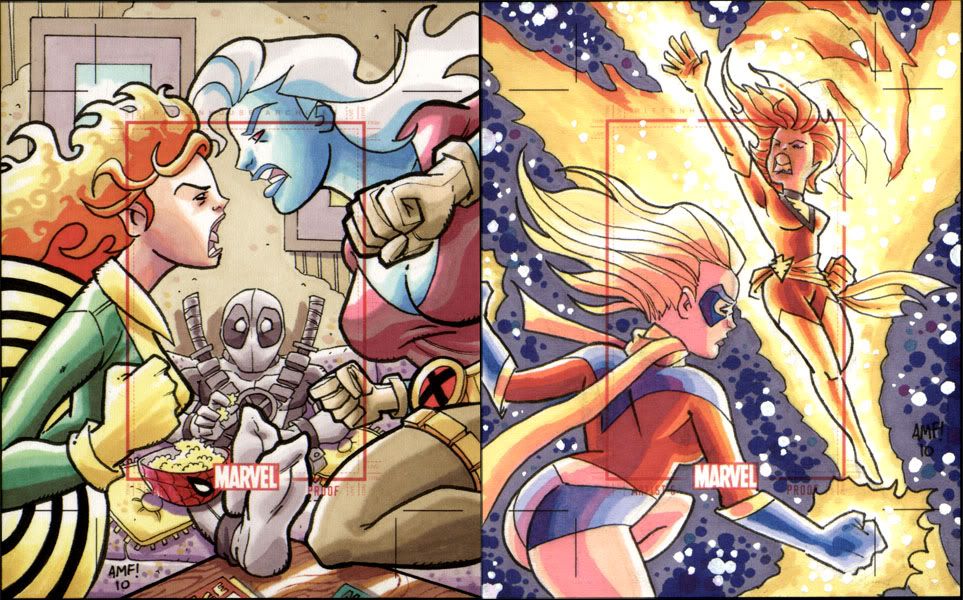 And if you want an AP card and you miss out on these two, not to worry. I've got AP cards coming soon from the next Marvel set,
Marvel Heroes and Villains
. And some from an upcoming
Bettie Page set
. And some that I can't talk about yet.
Also, I still write and draw comics. Mostly. All day long. Keep an ear out for news about that shit. Probably right here.